Pradeep Gupta (PG), CMD, CyberMedia (India) Ltd., has been recognized and awarded the Best Mentor (Private) for his role and contribution to mentoring entrepreneurs in the private sector at the National Entrepreneurship Awards 2016, instituted by the Ministry of Skill Development and Entrepreneurship (MSDE).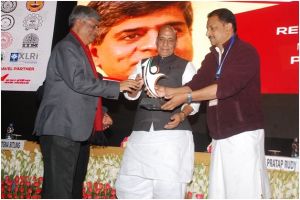 The award was handed over by Shri. Rajiv Pratap Rudy, Minister for Skill Development and Entrepreneurship in the presence of Home Minister Shri. Rajnath Singh. During the ceremony, an overview of MSDE's entrepreneurship initiatives were outlined by Shri Rajiv Pratap Rudy. Home Minister Rajnath Singh in his speech highlighted the role of entrepreneurship in making India a leading economy globally. He also congratulated the winners and praised them for their exceptional achievements.
The National Entrepreneurship Awards have been introduced to encourage a culture of entrepreneurship across the country and to encourage and honour entrepreneurs and entrepreneurship ecosystem builders for their remarkable efforts.
Organized for the first time this year, the awards were decided under a national jury of five luminaries from diverse fields. The jury comprised Naina Lal Kidwai (Retired Chairman HSBC Bank), T.V Mohandas Pal (Chairman of Manipal Global Eduaction Services), Dr. Raghunath Anant Mashelkar (Former Director General, CSIR), Dr. MK Bhan (Former Secretary, Dept. of Biotechnology, Ministry of Science & Technology, Govt. of India) and Dr. Bindeshwar Pathak (Founder of Sulabh International).
Pradeep Gupta is a first-generation entrepreneur pioneered technology publishing in India when he launched CyberMedia in 1982 at the young age of 28. A B.Tech from IIT Delhi and PGDBM from IIM Calcutta, Pradeep began his career with HCL. The CyberMedia group publishes media brands that include Dataquest, DQ Channels, The DQ Week, PCQuest and Voice&Data.
Cybermedia was also involved in launching one of the first entrepreneurship magazines in India, titled DARE, which has now been transformed into India's first Electropreneur Park, an incubation and acceleration centre for electronics start-ups.
Pradeep is one of India's earliest angel investors. He co-founded Indian Angel Network, the earliest organized angel network that continues to invest in 30-40 deals annually. A Distinguished Alumnus of IIT Delhi, Pradeep also chairs the Alumni Trust, sponsors of IvyCap Ventures with corpus of $140mn for Series A and is on the board of OOM Calcutta Innovation Park.
Earlier, Pradeep was the global trustee of TIE (The Indus Entrepreneurs), the world's largest entrepreneurial ecosystem. He also served on the Board of UTI AMC (AUM $20Bn) and its subsidiary UTI Capital, IIT Mandi and FITT. He was also a part Chairman of PanIIT India Association, the global IIT alumni association