A young curious parent's need to understand his child's progress in school led to the foundation of 'School Diary', a mobile-first platform that enables parents to obtain timely updates, review the progress of their ward as well as monitor child's safety on their smartphone in real time.
The platform includes timely alerts (notices, almanac updates, fees and event reminders), child's progress trackers (activity pictures, homework, attendance reports, performance reports), acts as a Notice board and has child safety tracking features like live bus tracker and authorizing people for pickup while the bus is still in transit.
Team NewsBarons spoke with Ashish Chaturvedi, Founder and CEO of Ufony Services Private Limited, the company that launched School Diary, as to how his initiative has simplified the teacher-parent communications process.
NB: What was the thought behind launching School Diary?
Ashish: Actually I solved a problem at home. My son was in his grade 1 and never used to tell what was happening in his school. As first time parents, we were always curious to know more but were not getting any inputs from the school/teacher either. To make matter worse we were discovering stuff on the bus stop.
On the other hand my wife, being a teacher, was having a hard time keeping 30 parents of her class informed. She was writing diaries, sticking print notes, calling and what not but still felt like a punching bag for parents.
I offered a simple smartphone solution to her to broadcast information quickly and she liked it. Took me to her School Principal and we got our first pilot going.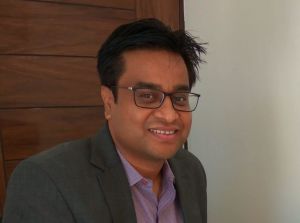 NB: Please explain the working and services of School Diary?
Ashish: School Diary makes Teacher to Parent communication easy, engaging, effective & environment friendly.
School Diary is a mobile-first platform that enables parents to obtain timely updates, review the progress of their ward as well as monitor child's safety on their smartphone in real time. It includes timely alerts (notices, almanac updates, fee and event reminders), child's progress trackers (activity pictures, homework, attendance reports, performance reports), school happenings alerts (Noticeboard), online fee payments and child safety trackers (live bus tracker and authorize people for pickup) while bus is in transit and much more; on their smartphones and right when they need to see it. School Diary currently reaches out to 430+ schools and 55,000+ parents across the world.
Simultaneously, for schools, the application provides cost effective ways to connect, collaborate and communicate with parents in an easy, engaging and efficient manner. School Diary also helps in eliminating paper wastage by providing one window for all communication needs thereby improving staff productivity.
NB: What are the salient features of your app?
Ashish: School Diary is a feature rich app and allows two way Messaging, School/Class/parent level Events, Automatic reminders, e-Attendance, Notices, homework, Pictures, Audio notes, Live bus tracking, fee & payments and much more in a single app. School Diary works on all smartphone platforms (including iOS, Android, Windows Phone, Windows 10 tabs, Windows desktop and all browsers). Our system allows both parents to keep tab on progress simultaneously using the same login.
Some use cases –
a. Teacher can in realtime send messages/notices/homework to any parent one on one or can broadcast to all parents in one go.
b. Parents can reach back to school/teachers and raise their queries or concern without the need of visiting or calling the school
c. Automatically remind parents about key events a day in advance.
d. Both Parents get realtime updates & right on their smart phone.
e. Parents get to see in realtime on a map where the bus is and get 5 min reminders.
f. Parents see fee details and can make online/mobile payments.
g. Parents get instant updates when the child is marked as absent or present.
NB: How do you differentiate yourself from other similar service providers?
Ashish: Although School Diary is a feature rich product, we differentiate ourselves on the service aspect where majority of solutions including ERPs fail.
We focus on in-premise training and re-training for teachers & parents. We encourage parents to raise their queries/concerns to us directly and resolve them to their satisfaction.
We touch base with every school on a regular interval to assess their queries or issues. We ensure that our schools derive maximum benefit out of School Diary & even assure usage of parents.
Apart from this, we are the only solution that covers all smartphone platforms including Android, iOS, Windows phone & Windows 10 devices.
NB: What is you revenue generation model?
Ashish: School Diary operates on Software as a Service (SaaS) model and charges schools for its services. It offers basic & premium features where basic features are offered free while school can leverage premium features for a price.
NB: What is your current userbase and geographical reach?
Ashish: School Diary caters to 55,000 parents across 430+ schools across the world.
NB: What are the challenges that you face in this market?
Ashish: We realised very early that majority of Schools aren't very tech savvy and have had bitter experiences with ERPs. So it was critical that we gain their confidence first.
For that we designed a free basic plan that covered their basic needs. Also for some key schools we went ahead and offered our premium features on a trial basis. This helped us bring a lot of Schools on board, which otherwise were wary to try School Diary.
Second, we deployed legs on the grounds to cover a wider geography. It helped us scale to different geographies.
Third, we focused on service element where majority of solutions including ERPs fail. Every call of every client had to be answered in a satisfactory manner. We ensured we were touching back to every client every 15 days. This created a lot of positive good will for us leading to reference generation.
During the journey, we ran out of money TWICE. Still I persisted as I knew that we were solving an important problem for parents & teachers. It is well researched and documented in western researches that close involvement of parents in child's education has a positive impact on child's learning, social & behavioural growth.
NB: Are you looking at raising another round of funds? If yes, please specify the amount and where do you plan to deploy these funds?
Ashish: Yes, we are planning to raise a bigger round in next 6 months to scale our operations to 25 cities and reach 1 million users (1500+ schools). 60% of the money raised will go towards acquring new customers & providing quality support to both Schools and Parents.
NB: How do you wish to capitalize on the exponentially growing smart phone users in the country?
Ashish: Smartphone penetration is a boon for School Diary. Firstly, acceptance from Schools will go up as once schools see more and more parents using smartphones they will more willing to adopt smarter solutions such as School Diary. This would enable us to widen our reach to even smaller town & villages. Secondly, it would enable us to not only allow Parents to access their child related information from school but also discover child centric value adding product and services. School Diary will become that one window for parents to discover language learning content, extracurricular events and much more.