The Indian healthcare sector is expected to grow to US $280 billion by year 2020 from its current market size of US $100 billion and online healthcare will play an important role in contributing and also defining the quality of healthcare services in the coming few years. Team NewsBarons discusses with Neeraj Joshi, Co-founder and CEO of ThingsMeet Solutions, about his apps 'Prescribez' and 'PrescribezDoc' to understand how online healthcare service apps are evolving in the country.
NB: What is the difference between Prescribez and PrescribezDoc?
Neeraj: ThingsMeet Solutions launched their first healthcare App PRESCRIBEZ™, a health platform that digitizes every step of consumer health journey using digital clinic and digital medical home solution. With Prescribez, people can easily capture their health information at home using wireless medical devices and share it with their caregivers. Similarly, at the clinics, the health service providers can effortlessly capture the health information using similar devices. These digitization provides deeper insights into the health behavior and recommend interventions to manage health better.
Prescribez makes collaboration between consumers and service providers like doctors, labs, and pharmacies easy. The platform allows users to search for doctors and clinics and book appointments online. It also allows users to order medicines online. Under the wellness category, users can order OTC and wellness products. It also offers services like information on the nearest blood banks, hospitals, and ambulance services.
Prescribez™Doc was the Second product from ThingsMeet Solutions. Prescribez™Doc provide doctor's easy access to patient's details and their health records anytime, anywhere making remote support a reality. The strong communication backbone of Prescribez™Doc will help doctors to communicate very easily with patients leading to higher patient satisfaction and better patient experience which eventually will lead to practice growth. Prescribez's unique ez.Scribe technology helps the doctors to record the medical prescriptions digital with zero changes to their existing workflow. This prescription can be shared easily with the patient as necessary.
Prescribez is a consumer centric app whereas PrescribezDoc is an app dedicated to doctors. Prescribez was launched in May 2016 and PrescribezDoc in July 2016.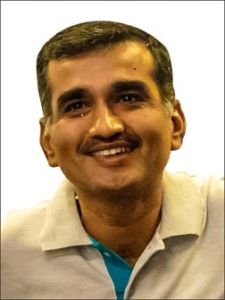 NB: How it is different from other similar service apps?
Neeraj: In the appointment space Practo, Lyberate and 1 mg are competitors. However as we move into the space of Digital Health Homes and Digital Health clinics we do not see any direct competitors.
NB: What are the salient features of your app?
Neeraj: Prescribez focuses on the following which differentiate it significantly from the competition
a. Comprehensive, 360 degree view of consumer health
While there are many apps which address a single isolated area of health, Prescribez takes a comprehensive, multidimensional view to get most effective outcomes as we believe
b. Intelligent health alerts
Based on the information shared and collected during the transactions, Prescribez will intelligently alert the users about possible health issues and motivate them to adopt healthy behaviour. Also, it will help in routine medication compliance.
c. Advanced health monitoring
We will be creating Digital medical home for consumers where they will be able to track their health at home using wireless medical devices such as Glucometer, BP monitor, thermometer, pulse oximeter, nebulizer which easily connect to their smartphones. This will not only help in monitoring health conveniently but also will help in adherence to health parameters, sharing and consulting easily with doctors.
d. Simplified and productive workflow for doctors
In India, the doctor to patient ratio is still very high and doctors are always struggling to fit more number of patients in the given time. Prescribez Doc helps them in simplifying the workflow by automating the capture of basic health parameters like weight, blood pressure, pulse oximetry so that when the patient enters doctors cabin, this information is available to them at their fingertips. This also aids in creating digital health record conveniently.
e. Easy to use platform
The health industry has embraced technology in their domain like CT scans or ECG monitors however the use of technology for capturing right information is still low. Based on the feedback from people in the industry, we learnt that the systems are difficult use, hence the lower usage. So we have created a platform which is built with ease to use.
f. Deep expertise
The team has more than 100 years of technology experience and 30 years in Healthcare industry experience. The team has two doctors on board as well. This will help us in understanding the needs better and create a product that fits the market needs.
NB: What is your revenue model?
Neeraj: Revenue is generated from the following models:
1. Doctors Subscription (Already active)
2. Lead generation model -Labs. Pharmacy, Wellness Products and Device manufacturers (Already active)
3. Consumer Services – Health Coach, Weight management, Stress Management, Institution Wellness, Remote consulting (2018 onwards)
4. Data Analytics and Reports – Pharma Companies, Insurance Companies, Medical Device Manufacturers (2019 onwards)
NB: What is your geographical reach, number of users and doctors on board?
Neeraj: Prescribez has launched its services in Pune, however, the Prescribez Doc app can be used by Doctors anywhere in India.
Number of Doctors on Board – 2500
Number of patients -25000+
Number of patient downloads of Prescribez™ – 15000+
Number of Doctor downloads of Prescribez™Doc– 500+
No. of messages sent through the app already: 100000+
NB: What is the methodolgy you adopt for customer acquisition?
Neeraj: Customer acquisition is through a multi pronged approach
1. Through a mix of social media and traditional marketing
2. Through feet on street and referrals for Doctors, Labs
3. Direct connect with patients through corporate events
NB: What is the further amount of funding you are looking at raising? Where will it be utilized?
Neeraj: We are looking at raising about US $ 1 million. This will be used for expanding to Mumbai and developing digital clinics solution.
NB: Are you present on all platforms?
Neeraj: We are present on Android and iOS platforms.