Gradlimited, a mentorship platform, provides students with a data driven system to assess a career that is best suited for their personality. Gradlimited has tied up with The Psychometric Centre – Cambridge University for the digital footprint assessments of the students.
At the same time, the platform equally well facilitates organisations with candidate selection process based on competencies, behaviors and attitudes as well as future aptitude of prospective candidates. This simplification process improves decision making, reduces hiring time and ensures high cultural fit-ment.
Team NewsBarons spoke with Avinash Rogye and Abhishek Mehta, co-founders of Gradlimited, about their unique business proposition, utility of psychometric assessment and why personality fitment should be a major criterion in the selection process.
NB: What was the thought behind launching Gradlimited?
Avinash: Gradlimited was launched with a vision to make the lives of students and young graduates easier. Having worked across multiple sectors we realized that there is a massive opportunity information gap, owing to which students end up making irrational career decisions.
NB: Please explain the working and services of Gradlimited?
Avinash: Gradlimited is a one of its kind mentorship platform that helps students and young graduates explore personality relevant career and educational avenues. Once a student logs in to gradlimited they are put through a battery of assessments which then uses a sophisticated matchmaking algorithm to fetch for most relevant (personality and skill based) avenues for the candidate.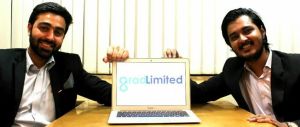 NB: How do students/fresher candidates assess their career options?
Abhishek: Upon taking the assessments, downloadable reports are generated for students. These reports are both psychometric as well as behavioural in nature. We are the only company in India that is able to assess a candidate's personality on the basis of their social media activity. We believe that a digital footprint report is the best form of validation to a candidate's psychometric information as it is based on their actual behaviour over a prolonged period of time. These reports help us identify a candidates "Occupational Interest" and also their academic inclination. Our matchmaking engine uses this data to recommend most suitable jobs, courses, internships and scholarships on the basis of this information.
NB: How does Grad Limited help organisations?
Abhishek: Companies suffer huge losses in terms of both time as well as resource due to attrition and person-job mismatch. Understanding this, companies in the recent past have been allocating separate budgets to access candidates form a personality fitment perspective before selecting them for their organisations.This however is an added cost to the conventional job search engines and at the same time doesn't help save a recruiter's time in going through candidate profiles before selection. Statistically speaking, a recruiter goes through approximately 77 applications for each fresher opening. Gradlimited helps organisations save both time as well as cost by making a refined pool of candidates available to them on one single platform tailored to their organisation on the basis of selected personality criteria.
This helps companies reduce time to hire, cost to hire, save on costs involved with rehiring and ensuring a healthy attrition rate and strong cultural fitment within the organization
NB: What is you revenue generation model?
Avinash: Gradlimited is free for students. Our revenue model is primarily based on employers who wish to use the platform as a recruitment engine and Course providers looking at targeted promotion of their courses. Even on these fronts, we believe that the conventional range of services like standard matchmaking which job search engines have been charging companies for, for over 10 years form the "hygiene" element of the platform which will be made available without a cost. Employers will be charged only for the incremental value of a more refined search of candidates filtered on their personality information.
NB: What is your current user base and geographical reach?
Abhishek: We are primarily serving Mumbai in terms of the Jobs available on the platform. However, we have had a positive response from students and recent graduates across the country with over a thousand registered users within 2 weeks of launch.
NB: What are the challenges that you face in this market?
Avinash: Most developed countries are very well versed with the concept for personality assessment for job search. Personality fitment is a major criterion in the selection process; however the major challenge we believe in our markets is the lack of education and awareness towards the concept. India as a country has the largest workforce in the world yet the importance of personality fitment for career exploration is not emphasized upon in the schooling system. This, we believe is changing and major Indian MNC's are seen investing highly in this proposition as early adopters to this change. We strongly believe the rest of the market will soon follow suit.
NB: You have raised funds, where have you deployed them into?
Abhishek: Yes we have, we have been incubated by YoungIdeas Ventures. We have primary deployed the funds towards product development and marketing since we believe its a relatively new concept in the India context and the market still needs a bit of educating for the same.
NB: How do you wish to capitalise on the exponentially growing smart phone users in the country?
Avinash: Our entire efforts since inception have been towards making the website extremely responsive. We have created a mobile friendly website with "app-like" features. As a student centric platform we think it is of utmost importance to meet students at a place where they spend most of their time, their cell phones.