The Mobile Wallet (TMW) offers a safe and secure shopping experience due to its encrypted transaction mode that ensures safety, reliability and convenience to its users and both offline and online merchants can accept payment using this technology. Team NewsBarons connected with Vinay Kalantri, Founder and MD of The Mobile Wallet, on the increasing usage of mobile wallets, security concerns and his thoughts behind partnering with MatchMove, Singapore's fastest growing Fintech Company.
NB: What is your USP and how do you differentiate yourself from other similar service providers?
Vinay: We are a Fintech company providing 360 degree solution to payments anywhere and everywhere in India. We aim to provide and empower people with every facility that a physical wallet provides; this gave birth to our first service, The Mobile Wallet App that runs through the barcode and QR code technology to process payment. We at TMW are a one-stop-solution for all your payment needs and that makes TMW unique.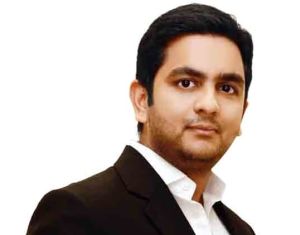 NB: What has been the surge in user base post demonetisation?
Vinay: We have witnessed a 300%grwoth in customer acquisition post demonetisation. At present, we have a strong user base of over 60,000 across the android and iOS platforms.
NB: What is the response from Tier II and rural areas for acceptance of mobile wallets? Are Mobile Wallets predominantly an urban phenomenon or are equally accepted across India?
Vinay: The Mobile Wallet has got a fairly good response from Tier II and rural areas, we plan to further build a strong base in Tier II and rural areas by educating people about the convenience of using TMW and the benefits they can avail, thus empowering them to contribute towards a digital India.
NB: What are the challenges that you encounter during merchant/customer acquisition?
Vinay: The main challenge we experience is getting them on board as full KYC customers/merchants as per the government regulations.
NB: Security is a huge concern during online transactions. How do you address this?
Vinay: For our customers we have set two levels of security. One is with a password and the other an MPIN. Our virtual card within our App cannot be applied for unless the customer has set his/her MPIN. For all online transaction using TMW App, an OTP as a secondary factor authentication is mandatory.
Our Application is PCIDSS certified a standard security in the payments business.
We use a secure 256 bit encryption standard, for encrypting information in the customer's wallet.
Our servers are segregated from our production environment, where no one has direct physical access to our servers. In addition to this, we also have multiple layers of firewall protecting us from external theft. We have also ensured that no customer can access his account from more than one device at the same time.
We have on board one of the best security organizations in our country to monitor IP related activities & have regular stringent audits carried out by our banking partners and RBI.
NB: What was the thought behind partnering with MatchMove?
Vinay: The Mobile Wallet (TMW) has partnered with MatchMove, Singapore's fastest growing Fintech company for integrating MatchMove's award-winning Wallet OS into the TMW app. This will allow TMW to further boost its functionality and usability for its users to pay on the go and allow businesses to accept payments digitally.
NB: TMW has raised a significant amount of funding. How do you plan to utilize it?
Vinay: We are intelligently and methodically strategizing to optimize our investments, as India has now grown to accepting a different mode of payment than physical cash, and we plan on supporting the same with the best technology.
NB: You have plans to have over a million merchants on your app in the coming quarter? How do you plan to accomplish this?
Vinay: We have over 60,000 merchants on board and plan to increase our offline merchant base to a million by the next quarter. Our plan to achieve the same is through a strong distribution channel backed by the best in technology, with the highest level of safety, security and reliability & innovative marketing strategies.