Xploree is a smart mobile keyboard app that understands user intent based on the user's conversation, social interactions, online search and recommends relevant brands, offers and content in a non-intrusive manner. Deepti Mani Saxena, Director- Sales & Marketing at KeyPoint Technologies, explains to Team NewsBarons about the working of the industry's first hyper contextual and intent based mobile keyboard Xploree and the winner of the 2015 New Product Innovation Award.
NB: Please explain the concept and working of Xploree?
Deepti: Xploree is industry's first hyper contextual, multi lingual, intent based, mobile keyboard and discovery app. Powered by Natural Language Processing (NLP) and Machine Learning, Xploree understands and interprets a smartphone user's intent and topic affinity as the user engages in conversations, social interactions or searches on any app. It then recommends relevant brands, offers and content even before users explicitly verbalize their intent. The Xploree recommendations appear right on the keyboard as non-intrusive 'Intenticons' as the user inputs text across apps. Xploree creates serendipitous discovery experiences to users in the mobile moment, setting new benchmarks in consumer engagement and experience.
NB: What is your USP and how do you differentiate yourself from other similar service providers?
Deepti: We believe the mobile keyboard is an integral part of user experience on mobile and is best suited for driving consumer satisfaction in the digital space. This smart keyboard app has taken a step further to augment predictions: not just words but INTENT. Xploree works with all devices, (across all apps, in virtually any language, based on unique individual history, personality, interests and behaviour), connecting people to content, products, services and solutions, almost faster than ideas can actually lead to words that too in their moment of need!
Another USP lies in awarding top most priority to user convenience and privacy.Done entirely on the user's phone with our proprietary and lightweight NLP algorithms, Xploree does not compromise on user privacy. We follow strict EULA & data privacy policies and do not capture, store or map users' data. The only data thread that hits our servers is the context and even that dies with the closing of the keyboard session.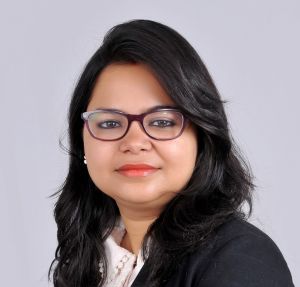 NB: What are the other salient features of your app?
Deepti: Intent-oriented & discovery-driven emoticons-Xploree hints at useful suggestions in the user's moment of need, followed by relevant need based discoveries.
Cross-app reach – Seamless browsing that brings relevant options minus the hassle of switching apps.
Hyper-contextual – Deeper understanding of user needs to match it with meaningful discoveries around product suggestions and offers.
Personalized keyboard – Users can save new words to the keyboard dictionary and personalize it with new keyboard themes.
Effortless typing in multiple languages – Users can experience faster multi-lingual chat in their favourite languages, such as Hindi, Tamil, Telugu, Marathi, Oriya, Malayalam, etc., with improved language prediction. The Xploree keyboard supports 110+ global which includes 29 Indic languages.
NB: What is your geographical reach and user base?
Deepti: Xploree's user base is around 2.5 million. Currently Xploree caters to Indian market only.
NB: What is Xploree's revenue model?
Deepti: We have an ad-supported business model. Xploree is free for users.
NB: Has Xploree raised any funds yet?
Deepti: Xploree is an off-shoot product company of KeyPoint Technologies backed by single investors since 2006.
NB: What are the challenges that you face in this market?
Deepti: The Smart Keyboard App is revolutionary and first of its kind in the market. While the market has seen many word prediction keyboards, Xploree takes the mobile keyboard to a whole new level. It captures user's intent. This is something very new for people to understand. Therefore, challenges are bound to come. But the profound belief that a product like ours will drive the future of digital experience while users and brands remain ultimate beneficiaries – is what drives the team to innovate in this space.
NB: How many brands have you partnered with in India?
Deepti: We have partnered with prominent brands like Zomato, Flipkart, Amazon, Shopclues, First Cry, Housejoy, Coupondunia, Daily Motion among several other known brands.
NB: How do you wish to capitalize on the exponentially growing smart phone users in the country?
Deepti: Despite 100% penetration across smartphones; keyboard remains the most underutilized and passive input app / device. By today's internet analogy, keyboard is to mobile what 'Googling' is to internet. Our vision is to build a future where the mobile keyboard can be leveraged to help people in their moment of need, create value for users as well as brands and improve the way people interact with their mobile keyboard.