KHELfit is a fun & fitness program designed to help children, adults and families bring healthy lifestyle changes in their daily routine. Conceptualized, invested and put into practice by the CEO of a leading Retail chain in India and founder of a management consultancy – Ganesh Remani, who himself is a fitness lover and a marathon enthusiast.
Ganesh is the CEO of food and grocery retail business Sangam Direct and also oversees a Corporate Kitchen facility that caters to leading multinational players. He is the Founder of Management Consultancy, NliteN Consultants that specializes in Strategic planning, Execution Enablement and Monitoring Outcomes.
He speaks with Team NewsBarons on the need for fitness for children & adults and how KHELfit was conceived & developed to cater to students, corporate executives and individuals to bring about a healthy change in their daily endeavours.
NB:What is KHELfit program?
Ganesh: KHELfit is a fun &fitness program, a movement, a transformational action that is essential in today's world.
Ask yourself, are we doing justice to our next generation by not giving them adequate environment and inculcating right fitness habits as a regular practice?
With KHELfit, we want to promote and create a fitness change in the environment by involving those individuals:
• who intentionally/unintentionally follow a sedentary lifestyle
• do regular work-out's and are keen to know more about how to stay fit and live a healthy life
• school students who want to play variety of games and enjoy by actively participating during the P.T. period of the school
• kids who have less space in the residential complex and are looking forward for interesting play options
• who wish to pre-condition their body for better performance in sports
• mothers who are worried of their child's growth and right nourishment
• irrespective of the age who wantto embrace fitness for healthy life
• nuclear families that have busy work schedules and need an affirmation regarding their nutrition, exercise and other activities
• joint families where the family members have myths and differences on the right food and fitness habits
We believe that kids, especially, are full of energy, innocent and are susceptible to observe, quickly learn & adapt the lifestyle their families have. It's unfortunate that life in metros today has become more demanding and challenging. We have fancy homes, podium and elevated parking's but we have less space to meet the play requirements of growing children.
KHELfit is essentially for all household's & corporate companies who are thoughtful about human life and its quality of living.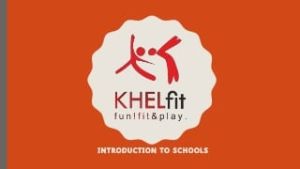 NB: What are the components that KHELfit focuses on?
Ganesh: If you look at health it has 3 points and sides like a triangle. They are:
• adequate exercise
• right nutrition and
• ideal number of undisturbed and stress free sleep
For an individual who is seeking to stay healthy needs to connect with all these points. KHELfit acts as a facilitator to help families meet their health requirements through an on-ground and a virtual model.
Our exercise model is based on the essential five components of fitness routinefor all ages. Our areas of focus are
• Cardio
• Endurance
• Flexibility
• Strength and
• Full Body Workout.
A good fitness exercise routine should be coupled with right nutrition that suits to body needs. Diverse cultural habits and body composition necessitates different solutions for each individual. And most importantly, one should enjoy and embrace the food intake rather than being left with empty stomach or dissatisfaction.
Most of us sacrifice sleep and punish our bodies which only impact our overall lifestyle. KHELfit works towards encouraging individuals for stress free sleep & helps them complete their overall fitness routine.
NB: What dos KHELfit offer that makes fitness fun to follow for kids?
Ganesh: The physical activity of kids is essential for overall development of kids. With the academic pressures, lack of parental time and most importantly space constraints especially in Metros the amount of physical activity that a kid must perform every day is decreasing day by day. The impact of this is seen in rising obesity, lack of endurance and flexibility of the body. The ideal place for kids to pursue play and physical activities is at their home or on play-ground. But with rising real-estate prices, space constraints at home, small building compounds, distanced play-grounds, increased competition to excel in academics that leads to increase in admission to coaching classes, a child is left with less or no time to play. Then where should they play or exercise and who should take the responsibility of imbibing right fitness values? The answer is this is a collective responsibility of parents, schools and the society at large.
We are fortunate that still lot of schools have play-grounds and auditoriums where fitness can be pursued in form of exercise or play. The compulsion of once a week P.T. period in school has helped our children to become aware of exercise forms based on their age and abilities. While every child has to participate in the Physical Training program imparted by the school but the monotony or the similarity of the exercise makes them withdraw from it. Even at the parent level, none of us question our children regarding the P.T. period. The reasons to which could be our co-relation of P.T. period with our childhood memories of having fun with our friends as the teacher's attention shifted to other students or finding P.T. as boring.
The complexity of the existing P.T. period and Sports day further arose when a few kids perform better at a sporting event and a large number of kids become their cheer leaders or fence sitters. One probable reason of attachment to gadgets as a preference to a physical activity is essentially to satisfy themselves of playing a game and building self-esteem.
With all the above challenges KHELfit team thought of designing a program with the objective of making fitness fun for children.With KHELfit, we offer over 1000 plus games or obstacle course for school students that can be pursued by kids of all age groups and body types during the P.T. period of the school, using the facilities available within the schools. The obstacle course so designed can be matched to school facilities. The principle is "No Kid Left Behind" and every kid has an opportunity to play, contribute and enjoy.
NB: You have also designed a Corporate Executive fitness programme called 'Corporate Employee Responsibility?
Ganesh: On an average nearly 30% of the time is spent in offices by employees and hence taking care of the employee's health is a must. Most of the corporates are already sponsoring health check-ups, health talks, health insurance, gym facilities etc. as good practices. However, the high pressure job with over emphasis on achieving unrealistic goals, encouraging spending long hours is a contradiction to the good work practices.
Similar to Corporate Social Responsibility,our aim is to introduce and make every corporate think & adopt the practice of 'Corporate Employee Responsibility' (CER) and monitor the fitness levels of employees periodically. The fitness level of individuals should be a part of the employee assessment. There should be incentives given to the employees who improve on their fitness levels. The assessment of fitness level is not with others but with self. After all, the biggest asset a company owns is its employees. It's a small initiative that will go a long way to build a healthy organisation.
The adult program extends to the venue of their convenience. Our Executive Programmes for Corporate are based on 3 models:
• Fitness Test: Aimed to be conducted at different time intervals to monitor employee fitness levels
• Fitness work-out sessions: Designed into 20-30 minute capsules that can be enjoyed during the work hours
• Fitness Events: Three-day Inter-city and MICE tours for different stake holders of a Corporate
NB: Do you have a National Foray plan in place?
Ganesh: KHELfit, at present, has been launched in Mumbai. We aim to penetrate into schools and corporates based in metro cities namely, Mumbai, Delhi, Bengaluru, Pune, Hyderabad and Chennai in our first phase of geographical growth.
The school curriculum of KHELfit is customised based on the assessment requirements of different major boards.
NB: Are students and Corporates your prime customers?
Ganesh: Our programmes are primarily designed for students. We believe that youth of this nation has to be fit for India to become a truly empowered country.
The penetration into Corporate's is essentially emanated from the thought that Employee health & Welfare is a corporate responsibility. Today a workforce spends minimum 30% of their productive life-time at their offices.
Corporate's pay high insurance premiums for medical treatment of their employees and their families which is essentially a post event support. How much one is ready to spend on prevention than cure? That's the focus of our program.
We are firm believers of Human Resource as a Company's most important asset. If every organisation starts thinking of Fitness Training as an essential element for better productivity than we are sure they will see only their Human Resource appreciating the work output and will help build an exemplary ecosystem.
NB: How does your platform provide a saleable model?
Ganesh: KHELfit Trainers are well qualified- Bachelor of Physical Education, Reebok Certified Trainers, Certified Zumba, Step Aerobics & Power Yoga Teacher who are intensively trained on KHELfit Obstacle & Fitness Courses.We have certified Nutrition Experts, Paediatricians,Doctors, Counsellors on our panel who can guide to specific individual needs. We use technology to promote fitness activities which are easy to understand and make things simpler and are a virtual guide who can be contacted for queries or information.
The impact of our program lies only if every individual enjoys the journey of fitness and believes in totality the necessity of being fit. We therefore connect to individuals on a regular basis using technology and provide necessary inputs, monitor at every stage.
No longer should time and space be a constraint. Our programme and plans are designed that could be practiced at home at a time that suits to most individuals. Where else you have the best place other than 'Sweet Home'. We engage people throughout their program until it becomes a part of their habit.
NB: How do parents monitor their ward/s growth – App/Physical reports/Daily/monthly/quarterly?
Ganesh: Our mobile app is in the developmental stage. Once we launch it live, it will give the user the leverage of complete fitness by regularly feeding data and monitoring their & families: food consumption, water in-take, sleep duration, daily mood and bowels health. Users will be able to check their log entries on daily, weekly and yearly basis. Our team of experts will monitor the customer logs and will push them notifications that will help them to achieve their fitness goals.
NB: Do you have any competitor or other companies providing similar services?
Ganesh: Our endeavour is to engage people until Fitness become a habit. Being fit is everyone's right and need and the ecosystem cannot deprive of this right of an individual. We want to build the ecosystem where fitness becomes a daily routine and not talked as a special event. Our hypothesis is Fitness is used so commonly in every day's parlance that the essence and value is never understood and therefore not being followed. As someone says availability of data or information doesn't lead to knowledge or wisdom. In today's world despite of plethora of information and awareness there is a growing challenge of rising unhealthy population. People have accepted being unhealthy as the way of life.
Our hypothesis is fitness is always looked as a destination shop by a few namely, sports persons, professionals who choose careers including trainers or even college going kids. We believe Fitness is a journey that persists lifelong with us and it is not a time bound activity. We believe in pre-conditioning the body for sports. Sports are skill based training and a fit person can become a good sportsperson but it is not necessary that all sportspersons are fit. That's the difference. One can enjoy sports till a limited age but fitness is as an asset that will stay lifelong. We complement to all other companies who are providing sporting skills.And all those who provide services to stay fit, we embrace them for the work they are doing. Ours is a holistic fitness activity that is based on bringing complete development of one's physical, social, mental, emotional and academic aptitude.