iCliniq is an online doctor consultation platform that brings doctors and patients together in real time. Spanning over 196 countries, iCliniq has an user base of over 155,000 patients with 1,600 doctors from over 80 specialties. Dhruv Suyamprakasam, CEO and Founder of iCliniq, explains to Team NewsBarons about his company, use of iCliniq bot, future growth plans and his focus on the US insurance market.
NB: What was the thought behind launching iCliniq?
Dhruv: The idea behind launching iCliniq is to provide accessibility of healthcare irrespective of geographical disparities through our online doctor consultation platform where patients can connect with doctors anytime and anywhere in the world.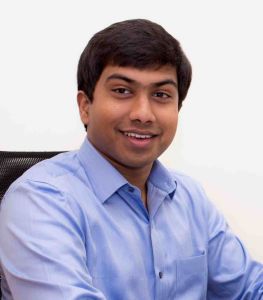 NB: What is the size of the telemedicine market in India, y-o-y growth and expected growth by 2020?
Dhruv: According to the recent Assocham's study, the size of telemedicine market is growing at an annual growth rate (CAGR) of over 20 per cent, holds the potential to cross $ 32 million mark by 2020 from the current level of over $ 15 million.
NB: What is your USP and how do you differentiate yourself from other similar apps? Please explain the iCliniq technology and process for connecting with clients?
Dhruv: We differentiate in the quality of doctors and consultations we provide which makes us stand apart from other competitors. iCliniq, part of Orane Healthcare, is an online doctor consultation platform that brings doctors and patients together in real time. iCliniq is the first ever healthcare company to have a bot on Telegram, an instant messenger app in the world. With the help of the iCliniq bot, users can send their health issues with pictures and medical reports to doctors, any time. iCliniq is also available on Slack, a team messaging platform for working professionals.
We are first to have a quality assurance team (comprises of doctors and data scientists) and the first to devise such a process to aid the doctors. It took almost 3000 interactions for our team to devise the process.
A quality assurance team is mandatory to constantly check the quality and the business of online doctor consultation which is a confluence of technology and healthcare. The quality assurance team does not get into the treatment plan of the doctor but all it does is just 'nudge' the doctors to ask the right questions on iCliniq's platform.
For iCliniq's high quality consultations and customer experience the platform is internationally acclaimed as a 5th Best Tele-health portal in the world by some of the leading healthcare portals such as – Healthline & Treato. Recently Investopedia ranked iCliniq in the list of top 5 companies in Telemedicine. iCliniq is the only startup company from the whole of Asia to be in the list of Investopedia
iCliniq has over 2000 doctors from 80+ specialties. Users can either choose a doctor of their choice or can let iCliniq to assign a doctor. iCliniq's video tool is end-end encrypted and is HIPAA complaint. iCliniq phone consultation is very secure and private as it masks the phone numbers of both the doctor and the patient.
Users can also opt for phone consultation where they can post health issue with symptoms, current medications and lab tests performed if any. Users can choose time preference for the call. Users can also post health query at the platform iCliniq.
NB: What are the other salient features of your service?
Dhruv: On our platform, apart from online doctor consultation, patients can book for lab tests conveniently at their doorstep. iCliniq's well trained experts visit patients home and take the tests. This service is a pan India offer and covers all the tier I and II cities in India plus 270+ cities.
iCliniq, the online doctor consultation platform has partnered with US-headquartered Ambra Health ( formerly Dicom Grid), a healthcare SaaS company, to make digital medical image management accessible.
Earlier it used to be a challenge for both patients and doctors to upload the radiology reports as used to take lot of time and effort. This does not need any additional software to download and can be used to upload and view reports easily. The tie-up will enable iCliniq's patients to upload radiology reports within a few minutes, which would otherwise take much longer. The doctors can also download the reports within minutes.
NB: What is your geographical reach and user base?
Dhruv: iCliniq has patients in 196 countries with 1.55 lakh patients registered on the platform and 2.25 lakh health consultation cases solved till date.
NB: What is your revenue model?
Dhruv: Our revenue model is the subscription fee at our platform, corporate health tie-ups and insurance tie-ups.
NB: How do you plan to utilize your funds?
Dhruv: We primarily intend to use the funds for three things viz. setting up our US presence, enhancing our product called 'smart doctor' and scaling up. We want to utilize funds in US market because we want to focus more on the insurance market there. We want to invest in building and enhancing our product – 'Smart doctor' to help doctors answer faster. It involves a lot of machine learning and data sciences. Our capability to execute is proved with the execution of our bots. We need funds here to build a bigger team. By scaling up, we mean we need to up our investments in marketing and sales force.
NB: How do you wish to capitalize on the exponentially growing smart phone users in the country?
Dhruv: We have already made our mobile version very simple to use. Going forward because of space constraint in phones and more people using internet because of cheaper internet services like JIO, it will be more towards bots and mobile versions than apps. We look to capitalize on that. Apps will give way to bots and we have already made the first ever tele-health bot on telegram and slack. We look to bring more light weight innovations to be very inclusive taking into consideration the space constraints in the mobile phone.