HealthifyMe combines the power of technology with real human services to deliver measureable results on eating habits, fitness and weight. With over 1.2 million users, 150 coaches and 200 employees across Mumbai, Delhi, Bengaluru and Chennai, HealthifyMe app has been rated amongst the Best Indians apps of the Year in 2015 and 2016 by Google play. Team NewsBarons spoke with Mr. Nikhil Moorjani, Director – Marketing and Strategic Alliances at HealthifyMe about the stellar performance of HealthifyMe, their unique offering and the plans for future growth.
NB: What was the thought behind launching HealthifyMe?
Nikhil: Tushar Vashisht, the co-founder of Healthifyme, had returned from his investment banking career in the US to join the Unique ID project with the Govt of India. While in the UID project, he gained about 18 kg of weight! He attributed it to junk food around him, not knowing about the impact that food was having on his physique and no easy access to gyms/parks and trainers. While trying to reverse his lifestyle, he along with his cofounders started tracking his lifestyle and that system led to the birth of HealthifyMe. The fact that homemade Indian food was impossible to track in the western apps available became more self evident when he was living a lifestyle of Rs 100/day and Rs 32/day.
It was evident to the cofounders that the problem of weight gain was not just Tushar's. More than 100 million people suffer from lifestyle diseases like diabetes, hypertension and obesity, growing at 20% annually. On the other hand, we also have more than 370 million people having access to mobile data and smartphones. So it is the cofounders' common passion to healthify India using the power of smartphones that led to HealthifyMe being founded in early 2012.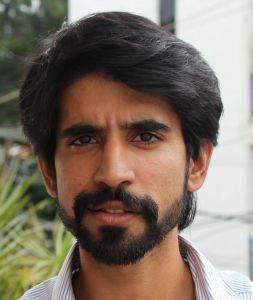 NB: Please explain the working and services of HealthifyMe?
Nikhil: HealthifyMe is a smart weight loss solution. It delivers its promise by handholding and guiding its users towards a healthier lifestyle in a sustainable manner. It is a platform that helps people lose weight and become fitter using a combination of a smartphone application, hardware (wearable activity trackers, weight trackers) and human assistance (nutritionists, trainers and yoga instructors)
HealthifyMe has a smartphone app and connects with various wearables- both of which allow users to track their lifestyle (diet, exercise, weight). HealthifyMe uses the latest scientific knowledge & technology solutions with access to nutrition and fitness experts who ensure success for each individual user. It is highly tuned to the Indian lifestyle and features the world's first Indian Calorie Counter. The nutritionists and trainers come from different parts of India so that they can cater to regional needs.
NB: What are the salient features of your app?
Nikhil: The HealthifyMe app was rated the best Indians apps of the year both in 2015 and 2016.
The app offers:
• Food, exercise & weight tracking with a database of over 20,000 foods and 500 exercises combined with an ability to track food via voice in 13 regional & local languages as well as by clicking a picture
• Detailed macro nutrient breakdown of your food and comprehensive advice including what to eat next
• GPS tracker, which monitors your run, walk or biking trips in real time
• Integration with wearable pedometers that syncs with App over Bluetooth real-time to help you keep track of steps, distance and calories
• Qualified team of nutritionists, fitness trainers and Yoga Instructors available within the App
NB: How do you differentiate yourself from other similar service providers?
Nikhil: We offer unique differentiating features like:
• World's first Indian Calorie Counter with each food broken down into their macro and micro nutrients. Nutrition forms the core of our platform.
• We have some of the most affordable fitness services in the world available to our users. Our team of nutritionists, fitness experts and Yoga instructors are available starting at Rs 899 per month. While still providing constant motivation, support, diet/exercise charts that provide a high touch experience and gives consumer delight
• Unlike some of the competitors, our solution can work without hardware/wearable which is getting commoditised and smartphone/smart watches are taking on more and more sensors
• With more than a million users, we are the largest and fast growing Indian fitness application
• We deliver better empirical results than offline centers
• We are one of the few apps in the world trusted and used by healthcare chains
NB: What are your parameters for choosing the coaches?
Nikhil: Our In-house experts are Nutritionist with Masters and PhD in Food and Nutrition Science from renowned institutes. Currently we have in-house Nutritionists who are working as full time employees, part of which are dedicated to Medical Channels such as Medanta and Apollo ACODE in Delhi and Manipal Hospitals in Bangalore – providing consultations to patients from Endocrinology, Cardiology and Preventive Health Centers. In the selection process for Nutritionists, we make sure they have relevant clinical experience and assess them on the basis of elaborate real life case-studies of patients/clients. We keep our bar high when it comes to hiring resources across the organization.
Our fitness experts are internationally certified and experienced trainers, working full time or part time. Besides Nutritionists and trainers, we also feature in-house Yoga experts who come with significant experience.
NB: What is you revenue generation model?
Nikhil: HealthifyMe premium customers connect with dedicated nutritionist and trainers at subscriptions starting from Rs 899 per month.
NB: What is your current userbase?
Nikhil: Currently we have more than 1.2 million users on board. We plan to reach the 5 million mark by the end of this year.
NB: What are the challenges that you face in this market?
Nikhil: We started as an Indian calorie tracker. We evolved the product and User experience to a point where it became the best calorie tracker that is out there for Indian customers. However, we realised that self-service is a mode that we as Indians are not the most comfortable with. We like assisted models – be it in restaurants or in wellness. Therefore we evolved and added nutritionist, trainers service layer on top of our application. This resulted in even greater impact and engagement with our clients. Today we are able to deliver:
– 25% improvement in fiber and protein intake
– 15% decrease in fat intake
– Four to Five kg of weight loss
in 12 weeks of users joining us.
Using experts and technology, today over million users have benefitted from HealthifyMe and met their goals – be it weight loss, eating healthy or staying fit
NB: HealthifyMe had received huge funding recently. Where have you planned to deploy these funds?
Nikhil: Growth, hiring leadership and product/ tech innovation will be our key focus going forward.