Goodbox is a mega app that allows small businesses to create mini apps within 5 minutes and provides consumers an access to over 1000's of businesses. For an annual fee of INR 999, small businesses across India are saving huge app creation cost and time along with getting connected to lakh of consumers on a daily basis. Mayank Bidawatka, co-founder of Goodbox responds to Team NewsBarons on the DIY Mega app that works for, and can be used by, millions of businesses out there.
NB: How did the concept of Goodbox originate?
Mayank: Goodbox is a pivot from our previous business of offering content in long distance buses. We introduced an app to help passengers track their bus' location while they were at their boarding point. This app had a chat functionality. We had passengers asking for help with hotels, bike rentals etc. We used to help close these requests by mediating deals with hotels. However, we realized that this model of mediation doesn't scale. If we would hit 1000 requests on a single day it would not be feasible to mediate these discussions.
There are many businesses in India. They want to be relevant to consumers and have a mobile presence through an app. However, apps are very expensive and time consuming to make. And consumers don't like downloading multiple apps for multiple businesses. We've made it easy for businesses to create a Mini App within 5 minutes and gives consumers access to 1000s of Mini Apps all within the Goodbox Mega App.
A Mini App is just like an app and has pre-built DIY (do-it-yourself) components such as messaging, displaying products / services and their pricing and an in-built online payment gateway. Businesses can also give their regular customers Reward Points and get access to top-in-class analytics. If a business were to try making such functionality as a part of their own app, it would cost them lakhs to make. We've democratized this technology and made it within reach for every business at 1/1000th the cost and time.
Consumers like the Goodbox Mega App because they get to buy from 1000s of businesses directly and all on a single platform. It's easy to discover new businesses in a particular location and interact with them without revealing your identity till it's time to finally make the purchase.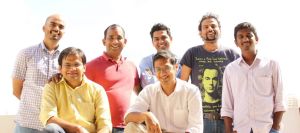 NB: What were the startup hurdles in the initial phase?
Mayank: Goodbox is an innovation and all companies that innovate face the same issue – education of users. The phase of education still continues. A business getting an app identity is a latent need and we're creating awareness about the solution and how it's 1000 times better that the next best option of making your own app.
Attracting talent is the next biggest hurdle. We're now getting around that and have managed to build an A-class team here.
NB: How would you differentiate your services to your competitors?
Mayank: We have indirect competition in various parts of our business. No direct competitors. We give businesses a Mini App that's hosted on the Goodbox Mega App. There's no company out there that's building the kind of platform we're building. As far as the app presence part of the business is concerned, there are smaller outfits of developers and then a small number of large outfits. The big difference between us and individual developers is the economies of scale. We've built a solution that works for, and can be used by, millions of businesses out there. We have pre-built DIY templates for most categories of businesses.
NB: What is total number of Merchants on the app?
Mayank: We have 10K+ businesses (and growing rapidly) on the app now.
NB: What is the number of consumers on the app?
Mayank: We have about 180,000 consumers using the app.
NB: What is the geographical distribution of the services? Is it limited to Bengaluru or available across metro's and other towns in India?
Mayank: We are all India. The 10K+ businesses are from all over the country. Since we started in Bangalore (and it being our test market), we have a higher penetration here than in any other city. 2017 is also the year of physical expansion to other cities for us.
NB: What is the revenue model? What are the growth plans?
Mayank: We charge businesses a fixed SaaS fee starting Rs. 999 / year for creating their Mini App on Goodbox. This fee is charged post a short free trial period.
NB: How much funding has Goodbox raised till date? What will be the funding used for?
Mayank: We raised a $2.5 million Series A round from Nexus Venture Partners in November 2015. Previous to that we had raised about Rs. 2 crore as a seed round from the Manipal Group and a few angels.
NB: Are you available across platforms (Android/iOS/ Windows)
Mayank: We are available on Android and iOS at the moment.
NB: How has demonetisation impacted your business?
Mayank: A sector wide move like demonetisation impacts almost every digital business and we have gained tremendously from it. It has resulted in an overnight change in the behaviour of businesses. Many of them stand to lose if they don't go digital. This has made them open bank accounts, learn about digital payments and going online in general – all massive infrastructure changes that would have taken years (may be decades) if it was done organically. They are more open to listening to online players, making the education process a lot easier and faster. It's the same change with customers who weren't online. They are more open and a lot of them have gone back to their cupboards to remove their debit cards and put them to use in the last 45 days.