In today's time and age, the concept of non-intrusive advertising or reward-tising, cannot be over emphasised. 'Lucky Stars', a contest-based mobile app, is perhaps amongst the first apps to ride on this concept, by incentivizing viewers (it's app users) to willingly looking at advertising and branded content, in a non-intrusive environment. The app has, in a short span, successfully garnered a large user base attracting leading brands to promote their products and services on its platform.
Lucky Stars has been very generous in user gratification and has gifted branded products like smart televisions, smart phones, luxury and smart watches, two wheelers and other equally valued products to over 4,000 winners across the country.
Team NewsBarons spoke with Hetin Sakhuja, Technopreneur and Founder of Brand Lucky Stars, about the novel app and the non-intrusive, reward-tising concept including plans for the future.
NB: What is a non-intrusive mobile advertising platform?
Hetin: Non-intrusive platforms are incentive based mediums, wherein the user engages with brands, products and services, without being prompted to or being force-fed information. Brands are looking to connect through mobile devices with audiences across geographies, to build information led campaigns, value-driven acceptance, measurable brand reach, impact and recall
It's a simple mobile app based process of engagement, activity and reward that requires minimalistic efforts with daily gratification that could range from expensive offerings to online vouchers
This medium provides a low cost of promotion compared to other mediums, apart from the most important fact that the audience itself chooses to become a part of the ongoing campaign.
NB: What inspired you to launch Lucky Stars app?
Hetin: The inspiration behind Lucky Stars app is a combination of my experience across advertising, digital media and international travels. During one of my travels to South East Asia, the raffle draw at the airport led me to think of and design a product that is contest-based and administered as a lucky draw, with branded products as gifts, to interest & engage the target audience. We launched the product as a mobile app, to ride the strong mobile internet connectivity across the country.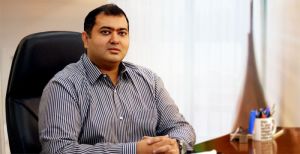 NB: You have received a tremendous response from end users?
Hetin: Lucky Stars app has garnered over 280,000 downloads since inception around 6 months ago. The app has been growing due to a positive word of mouth from existing users about the simplicity of use, not to mention the exciting, high value branded offerings and the transparency of running the contest.
NB: You have attracted some leading brands as advertisers on your app?
Hetin: India is a youth dominated country with nearly 65% of the growing population below the age of 35 years. As per available data, 80% of the total internet users in India have access to the internet on their mobile phones, due to the availability of cheaper smart phones, low cost of data packs and high rate of mobile connectivity, even across small towns. Marketers are always looking at promotional avenues that give them a bigger bang for the same buck.
We have attracted some leading brands on our platform and are bullish about the future.
NB: What is the revenue model?
Hetin: Our model is simple and unique. We charge brands a participation fee depending upon the duration of the campaign and whether it is a sponsorship of a draw or just plain advertising, besides other avenues like online surveys, where depending on the scope, a fee is charged.
NB: What is the next growth plan for Lucky stars app?
Hetin: We have a scale-up model in place and will soon introduce the next phase of the app which will further improve user engagement and interaction with our app.
Lucky Stars will soon launch its e-commerce platform, where users will be offered special deals on brands and products.
Simultaneously, we will also launch our Loyalty program to reward users for every action they take on the app, from visiting the app to participating in a draw, viewing branded content, etc. The reward points earned and accumulated can then be redeemed for products on the e-commerce platform. We will also permit winners to trade in the gifts won in a draw, for reward points, if they are not interested in claiming the gifts. These points too can be redeemed for products on the e-commerce platform.
NB: Are you looking at raising funds?
Hetin: Lucky Stars is bootstrapped at present. We have received a favourable response from users as well as leading brands. Once the e-commerce and Loyalty program is up and running, we may consider looking at raising funds to further invest in the brand and product offerings and review possible international forays.